About The Show:
More Than All The World is an epic new rock musical inspired by Marlowe's groundbreaking 16th century play about King Edward II, whose love for another man brought England to war. It features a soaring and catchy pop score and text by Erik Ransom (Grindr The Opera), and directed by Rachel Klein (Around the World in 80 Days)
This unbelievable true tale of medieval political intrigue, deception, romance, ruthlessness, war, religion, international turmoil, the "She-Wolf of France" and royal menage a trois will appeal to fans of Shakespeare, Game of Thrones and Hamilton.
Press
AWARDS:
One of the Best Musicals of 2016 (Alongside The Great Comet and Falsettos) – DC Metro Arts
FEATURES:
The NY Times - Theater "Live" Interview with More Than All The World's creator Erik Ransom and director Rachel Klein. Note: This digital feature has more views than any other "live" interview in The NY Times' history. - NY Times Theater "Live"
5 Out-of-the-Box Shows to See Off-Bway - Playbill
Photo Flash: Ransom's Pop Rock Musical More Than All The World - Broadway World
REVIEWS:
"More Than All the World is the musical we need now!" - Huffington Post
"The score is terrific! Like Rent, Rocky Horror- or dare I say it - Hamilton! Ransom has crafted a highly theatrical piece, elevated by Klein's ingenious staging, which connects on an emotional level. Many themes still ring true today: conflicts of class, demonizing minorities, homophobia, and staying true to yourself in the face of bigotry. More Than All the World pulses with a raw, urgent intensity that is undeniable." - Gay City News
"Ransom's well-researched and passionately performed work brings contemporary relevance to the story and to the old adage: Those who don't study history are doomed to repeat it." - DC Metro
"As writer and composer, Ransom has written an epic rock opera that can only be compared to Hamilton & Jesus Christ Superstar while Klein's directing, choreography & costume design is like a glam-rock supernova exploding right in front of you." - Huffington Post
"Ransom has provided a score full of soaring melodies and power numbers." -Talking Broadway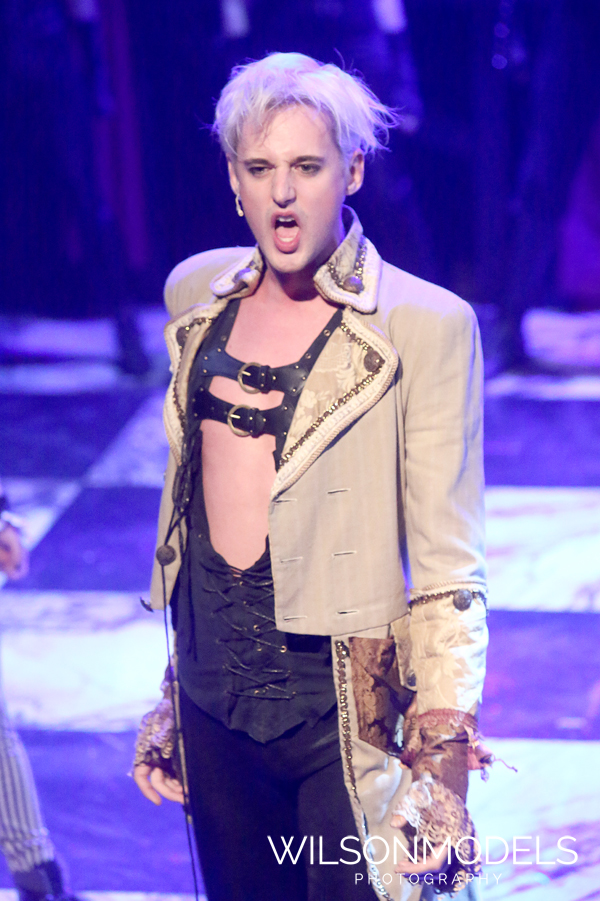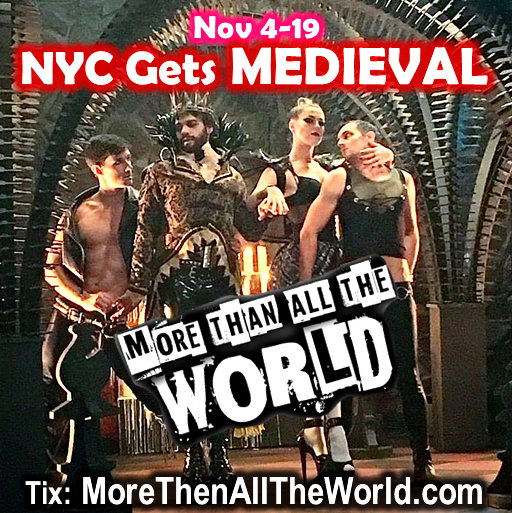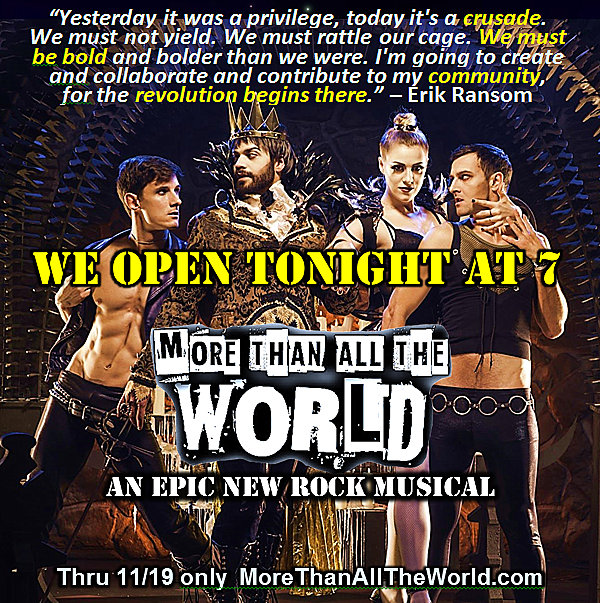 CAST & CREATIVES for the November 2016 run at Theater For The New City
REMY GERMINARIO* (Bennet / Prince Edward III) is the voice of title character in Peter Panic, a video game from Adult Swim. Film/TV: An Actor Unprepared, and the title character in The Feast of Stephen (dir. James Franco). Theatre: Buyer and Cellar (Cardinal Stage Co), Boys Who Tricked Me, When I Started Dating Men and Bradley Cole (Fringe NYC Award). RemyGerminario.com, @RemyGerminario
DEVIN HOLLOWAY (Prince Edmund) Upcoming: 42nd Street National Tour. Tours: Hair (Margaret Mead), Sesame Street LIVE. Regional: Cafe Variations (Siti Company/ Arts Emerson), Carousel (Enoch), Hairspray, and Grey Gardens (Brooks Jr. & Sr.). DevinHolloway.net
HUGH HYSELL* (Earl of Lancaster) Currently: Perfect Crime (Off Broadway 30th Anniversary cast), Divorce (HBO). Off Bway: My Big Gay Italian Wedding / Funeral. Tours: Phantom of the Opera, Pippin, Pirates of Penzance. Regional: Tintypes (7 Angels), Buddy (Gateway), Man of La Mancha (Jupiter). Tony® winning producer (Vanya and Sonia and Masha and Spike, Peter & the Starcatcher + others). HughHysell.com @HughHysell
JOHN JEFFORDS* (Robin / Hugh Despenser) Most recent: The Producers at Paper Mill Playhouse. Regional: Hello, Dolly! (Riverside Theatre) Cinderella (Kansas City Starlight), The Producers (Atlanta Theatre of the Stars and Olney Theater), Babes in Toyland (Avery Fisher Hall, Lincoln Center), Raindogs (Bay Street). Co-creator of the Instagram @rupaws_drag_race. Insta: @mrjeffords
ALEXANDER MOITZI (Mortimer) European Actor, based in Vienna/NYC. NYC: The Abduction from the Seraglio (u/s Bassa Selim, Metropolitan Opera), William Esper Studio Graduate, The Sweet, Sweet Spirit (Audience Favorite Award). Film: The Wolf of Wallstreet Europe: Robin Hood (European Tour), A Midsummer Nights Dream, Man of La Mancha, West Side Story, Anything Goes. www.AlexanderMoitzi.com
KATHERINE PECEVICH* (Countess of Sandwich) National Tour: Annie (Mrs.Pugh/Hannigan US). Off Broadway: My Big Gay Italian Funeral, Annie (MSG). Off-Off Broadway: Devastated No Matter What (Fresh Fruit Fest/Outstanding Performance); Ludwig Live (Kathy). Regional: Beauty & the Beast (Mrs. Potts); Chicago (Mama Morton); Hello Dolly (Dolly); Pippin (Berthe); Mary Poppins (Mrs. Brill). Film/TV: Payday (Sundance); Law and Order: SVU. www.KatherinePecevich.com
TONY PERRY* (King Edward I) New York: Allegro, 74 Georgia Ave., Shelter In Our Car, Martin, Repo: The Genetic Opera. Regional: Memphis, Ain't Nothing But the Blues, Parade, Cross That River, Ain't Misbehavin, Five Guys Named Moe, Big River, Me and My Girl, Smokey Joes Café. Touring Concert: "Soul To Soul: Yiddish and African-American Music Meet in a Celebration of Two Cultures." www.TonyPerry.com
MICHAEL THOMAS PUGLIESE* (Piers Gaveston) National Tour: Dirty Dancing the Classic Story on Stage (Dance Captain/Swing). Regional: West Side Story (Diesel) at Ogunquit Playhouse, Le Cirque BiJou and Band on the Run with Norwegian Cruise Lines. Proud graduate from SUNY Fredonia (BM in Music Ed.) Insta: @mikepugz3
ERIK RANSOM* (Marlowe / King Edward II) Off-Broadway: My Big Gay Italian Wedding/Funeral, Boys Just Wanna Have Fun, The Vanity, Coming: A Rock Musical of Biblical Proportions. Regional: Beauty & The Beast (Walnut), The Secret Garden (Fulton), The Violet Hour (Theatre Horizon). TV: Francois on the Emmy-nominated web-series Tainted Dreams. Film: Happy Yummy Chicken (Lead). www.ErikRansom.com
EMILY STOCKDALE* (Cataline) Regional: Singin' in the Rain (North Shore Music Theatre, Fulton Theatre, Maltz Jupiter Theatre), Born Yesterday, Nunsense (Northern Stage), Company (Geva Theatre), New York: The Lost (Paradise Factory NYC), Single (York Theatre). Model, visual artist and instructor at Muse Paintbar. www.EmilyStockdale.com IG: theemilystockdale, entereudaimonia
GRACE STOCKDALE* (Isabella) Last seen playing the role of Nicola in the 1st National Touring Company of the tony award-winning Broadway Musical Kinky Boots, as well as Mae in the US Premier of Atomic at the Acorn Theatre (off Broadway). Graduate of Ithaca College. @gracestockdale
LUIS VILLABON* (Archbishop of Canterbury/Dance Captain/Additional Choreography) New York: A Chorus Line, Peter Pan, Reefer Madness, Naked Boys Singing!. Regional: The Lion In Winter, On Golden Pond. First National Tours: Jesus Christ Superstar (Carl Anderson), Peter Pan, Seussical... (both w/Cathy Rigby). Film/TV: The Wolf of Wall Street, Julie & Julia, 30 Rock. William Esper Studio Graduate. luisvillabon@gmail.com
SKYLER COLT BARNHART (Ensemble) Favorite stage credits include Cat on a Hot Tin Roof (Brick), SubUrbia (Pony), Crave, Used Carlotta, Actor's Nightmare. Film: Sin Palabras (NYU), Life's Distractions (NYU). Proud graduate of American Musical and Dramatic Academy (AMDA-New York). @scbarnhart, www.facebook.com/skyler.barnhart
LYDIA GEORGANTZI (Ensemble) Arsène Lupin VS Sherlock Holmes (Gene Frankel Theater) A Midsummer Night's Dream (Ansonia) The Two Gentlemen of Verona (NYU) The Sweetest Swing in Baseball (Ansonia) A Sketch Of New York (Producers Club). TV: Mozart in the Jungle (Amazon). www.facebook.com/lydiageorgantzi
SUSANA QUINCHIA (Ensemble) is thrilled to be in the fight team of More Than All the World. Off Broadway: Beatrice in Much Ado About Nothing (The Playroom Theatre). Regional: Olivia in Twlfth Night (Lawnchair Theatre Co.) Alectrona in Vixens En Garde. She studied acting at the American Music and Dramatic Academy.
ETHAN F. SWAN (Ensemble) hails from Missouri. Favorite credits include Marty in It's a Wonderful Life, Mortimer in Arsenic and Old Lace, and Freddy in A Christmas Carol. Proud graduate of American Musical and Dramatic Academy (AMDA-New York). Insta: @do_what. www.facebook.com/ethan.swan1
ALANNAH ROLFE (Ensemble) Australia: Alice In Wonderland, Peter Pan, Romeo and Juliet (Majestic Performing Arts), Seven Brides for Seven Brothers (Ashfield Musical Society), My Great Big Adventure (ABC3 TV). NYC Theater: Full Circle, Twitter this…(Manhattan Rep), Knights (Glicker Milstein Theater). TV/Film: Funny or Die, Avenues (pilot), Sisters Best Friend, I Am Nerd.
ZAC LEE WOOD (Ensemble) Off Off Broadway: The Rare Upper Hand (Davenport Black Box), Mr. Invincible Explains it to the World (Harlem Repertory Theatre), Foggy Dew (Robert Moss Theatre). Film: To Sing Among the Branches (Director Lisa Lakeman), Tower of Silence (Director Eric Flynn Patton, Swordmaster Joseph Travers).
ERIK RANSOM (Creator) has worked extensively as a writer, composer, lyricist, and composer. He spent 5 years in the Off-Broadway casts of My Big Gay Italian Wedding / Funeral and has written and performed in various NY musicals, including Grindr The Opera, and Coming: A Rock Musical of Biblical Proportions. He also wrote the music for the motion picture Happy Yummy Chicken starring Taryn Manning of Orange in the New Black. www.ErikRansom.com
RACHEL KLEIN (Director/Costume Design) has been coined "Endlessly Clever" (NY Post), "Nothing short of brilliant" (Broadway World), and the New York Times has praised: "What makes this show pop is the bracing vision of its director, Rachel Klein." Off-Broadway Direction: Around the World in 80 Days, The Anthem, Gay Bride of Frankenstein. Selected NYC: Tink! (NYMF); Coming: A Rock Musical of Biblical Proportions, Symphony of Shadows. Regional: Dracula, A Midsummers Night's Dream. www.RachelKleinDirector.com
ANDY PETERSON (Music Director/Orchestrator) is a New York based composer, musical director, arranger and orchestrator. Film: Happy Yummy Chicken. Off Broadway: Atomic, Stalker: The Musical. Off Off Broadway/Regional: Thrill Me, 35MM, Atomic, That Was Then, It Would Take Armageddon, Connections, The Severed Hand of Neverland. ASIA: Sinbad: The Musical, Kiss Me, Kate. Australia: Bare, Pippin, A Chorus Line, Phantom of the Opera, Beauty and the Beast. www.AndyPetersonMusic.com.au
ROD KINTER (Fight Direction) Off Broadway: Pearl Theatre Fight Director; 2009- Present (13 Productions), The Anthem, Fatal Attraction, Abe Lincoln's Big Gay Dance Party. New York City Opera: Fight Director ; 1995-2011 (over 50 Productions and revivals) Live from Lincoln Center: Porgy and Bess (2002) ,Regional (select): ART. Utah Shakespeare, Hudson Valley Shakespeare, Barter Theatre, Shakespeare on the Sound. www.RodKinter.com
LUKE WILLIAMS (Asst Music Director) National Tour: Anything Goes. New York: The Vanity, Cabaret. London: Forest Boy. Regional: South Pacific, Peter Pan.Active pianist, conductor, and vocal coach in the New York cabaret scene. Thanks to Erik, Rachel, Andy, and Joan for this amazing adventure. @tlucas012
DOUGLAS MILLS (Sound Design) Recent credits include: Technical Direction: Crack Skull Row; Office Politics; Monte Cristo. Sound Design: Unseamly. A1/Audio Engineer: 39 Steps; The Actor's Studio Drama School Repertory Season; Anthem the Musical; Winter Rhythms. Sound/Lights/Video/etc: Brooklynite; DOT; Billy & Ray; Charles Busch's Judith Of Bethulia.
JAMIE RODERICK (Lighting Design) Off-Broadway: The Woodsman (New World Stages, PBS), A Dog Story, Ken Davenport's That Bachelorette Show, My Big Gay Italian MidLife Crisis, Liberty. Regional: The Bikinis! A New Musical Beach Party (Long Wharf, Riverside), Hamlet (Shakespeare on the Sound), Billy Elliot (Ocean State Theatre). Recent credits: Kerrigan & Lowdermilk's The Bad Years, Midnight at the Neverget, Tink! Resident Lighting Designer: Broken Box Mime Theatre.
ANN BEYERSDORFER (Scenic Design) Select Design: Forest Boy & Tink! (NYMF), The Night Alive (Guild Hall, East Hampton, NY), The Dodgers (The Hudson Theater, LA),The Black Book (American Theatre of Actors, NYC), 50 Shades! A Musical Parody (2015 National Tour). Select Associate/Assistant: Jitney (MTC, Broadway- upcoming), Peter Pan (Broadway Asia, China), Cinderella (Stage Entertainment, Moscow). www.annbeyersdorfer.com
JOAN WYATT (Stage Manager) Columbia '17 MFA. New York: Baby Fat (La Mama), Holiday Inn (Roundabout Theatre Company), Sleep No More, Upcoming: Kiss Me Kate Benefit Concert (Roundabout Theatre Company) .Canadian import.
MISHA OSHEROVICH (Dialect Coach) Previous credits include: Marin Shakespeare Festival: Twelfth Night, Virginia Shakespeare Festival: Antony & Cleopatra, All's Well That Ends Well; Cape May Stage: Moon Over Buffalo, Streetlight Woodpecker; Martha's Vineyard Playhouse: Henry IV. Film- The Prey. TV- SyFy Channel, Discovery Channel. Web Series: History, Rocky Times.
HYSELL MARKETING (Marketing) is led by Hugh Hysell, a Tony Award (r) Producer, who has marketed over 200 Broadway and Off Broadway shows (including Phantom, Les Mis, Spamalot, Miss Saigon, History Boys, Jersey Boys) and won the Globes Award for "Best Small Budget Promotion in the World." Hugh@HysellMarketing.com
DDPR: DANIEL DEMELLO PUBLIC RELATIONS (Press) has coordinated press campaigns in the United States, Mexico, Canada and Europe. He's publicized hundreds of Off-Broadway productions. Current clients: Pan Asian Repertory Theatre, Working Theater, NY Deaf Theatre, The Fantasticks & Perfect Crime. He also represents one of the world's leading gay dating apps, Scruff.
EDWARD MILLER (Producer) Theater Producer: Revolution Row (Michael Weller), The Retreat (Sande Shurin), Make It So, A Marvel of A Man, A Promise Best Kept (Theater For the New City); Film Producer: How a Waitress Deals, The Big Gay Musical. Film Performer: A Four Letter Word, Kiss Me, Kill Me.
Edward Miller in association with Lil Rascals Theater Company presents
MORE THAN ALL THE WORLD
An Epic New Rock Musical by Erik Ransom, Inspired by Marlowe's "Edward II"
Press: Daniel Demello Public Relations, Marketing: Hugh Hysell, Dialect Coach: Misha Osherovich, Asst Stage Managers: Daniel Zuzalek & Morgan Leigh Beach, Stage Manager: Joan Wyatt, Scenic Design: Ann Beyersdorfer, Lighting Design: Jamie Roderick, Costume Design: Rachel Klein, Sound Design: Douglas Mills, Asst Music Director: Luke Williams, Dance Captain and Additional Choreography: Luis Villabon, Fight Direction: Rod Kinter, Music Director/Orchestrator: Andy Peterson, Direction and Choreography: Rachel Klein